Brooklyn Flea is making its record fair a twice-a-year event. On May 19, at Smorgasburg in Williamsburg, come visit the Minimal Wave booth and those of other labels such as Domino, Sacred Bones, Captured Tracks, RVNG, DFA, True Panther, Temporary Residence, Finders Keepers/B-Music, Ba Da Bing, FatCat, Kanine, Other Music, and more. We're doing a Minimal Wave cupcake raffle: winning prize cupcake receives $50 in records. We'll also be debuting the In Aeternam Vale "Dust Under Brightness" LP along with offering some long out of print items.
A selection from the rest of the labels:
Sacred Bones: Led Er Est: The Diver; Moon Duo Mazes Remix LPs (mail order only)
Captured Tracks: Record Store Day box sets from Medicine, Cleaners From Venus, and the Wake; Blouse limited-edition LPs
Kanine: Surfer Blood, "Floating Vibes" 7" (newfound copies of long out-of-print single); Chairlift debut LP (out of print); Eternal Summers: Correct Behavior (out July 2012)
FatCat: PAWS limited edition cassette (edition of 200); new FatCat T-shirts
Finders Keepers/B-Music: Andy Votel Mixes (out-of-print); Jean Rollins 10"; Possession OST cassette (edition of 200); Fallen by Watchbird Remix 12"; Record Store Day silkscreened poster (edition of 200)
Knitting Factory: Fela Kuti Complete Works CD box set; Fela Kuti limited-edition Record Store Day 10"
Partisan: Limited edition colored vinyl from Mountain Man, Deer Tick, Middle Brother, Diamond Rugs, Holy Sons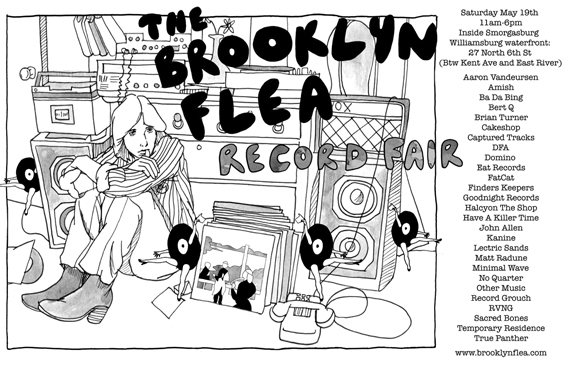 See photos from the Superstar DJ Record Fair / Independent Label Market we did last October.
http://www.thelmagazine.com/TheMeasure/archives/2011/10/10/photos-brooklyn-fleas-superstar-dj-record-fair-and-independent-label-market
http://www.facebook.com/media/set/?set=a.294655733895128.86637.209825562378146&type=1